Join us for Lenten Worship centered around our Lenten Theme: "We Are Church"
Wednesday March 1st, 7pm
Midweek Lenten Services begin with a traditional Ash Wednesday Worship Service.
Wednesdays, March 8 thru April 5
Soup supper starting at 5:30pm
Midweek Lenten Worship Service at 7pm
During these 5 weeks we explore the "We Are Church" theme and the four classic "Marks of the church" that we confess in the Nicene Creed.
Week1 – We are Church
Week 2 – We are holy
Week 3 – We are one
Week 4 – We are catholic
Week 5 – We are apostolic
On the Sunday before each Wednesday Service, we will have questions and scriptures to discuss in Adult Forum between services at 9:15am as we prepare for the coming Wednesday. The focus questions will be published in the Sunday service bulletin to allow people to think and pray about these individually throughout the week.
Lenten Devotions from Luther Seminary – "Oh Love, How Deep"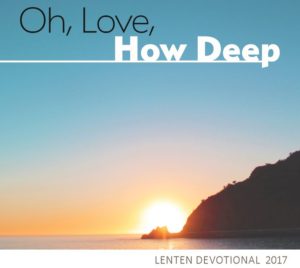 Luther Seminary invites you to use their 2017 Lenten devotional, "Oh, Love, How Deep," this Lenten season. The devotions are based on the hymn "Oh, Love, How Deep" and are written by faculty members and students.
If you wish, you can choose to subscribe to Luther's daily devotions, God Pause.
The devotions are available here: Oh Love, How Deep regular print – large print.
For more information about the theme and who wrote the devotions, see the Luther Seminary Lenten devotion site: http://www.luthersem.edu/lent/