Rooted and Grounded in Love for 50 Years!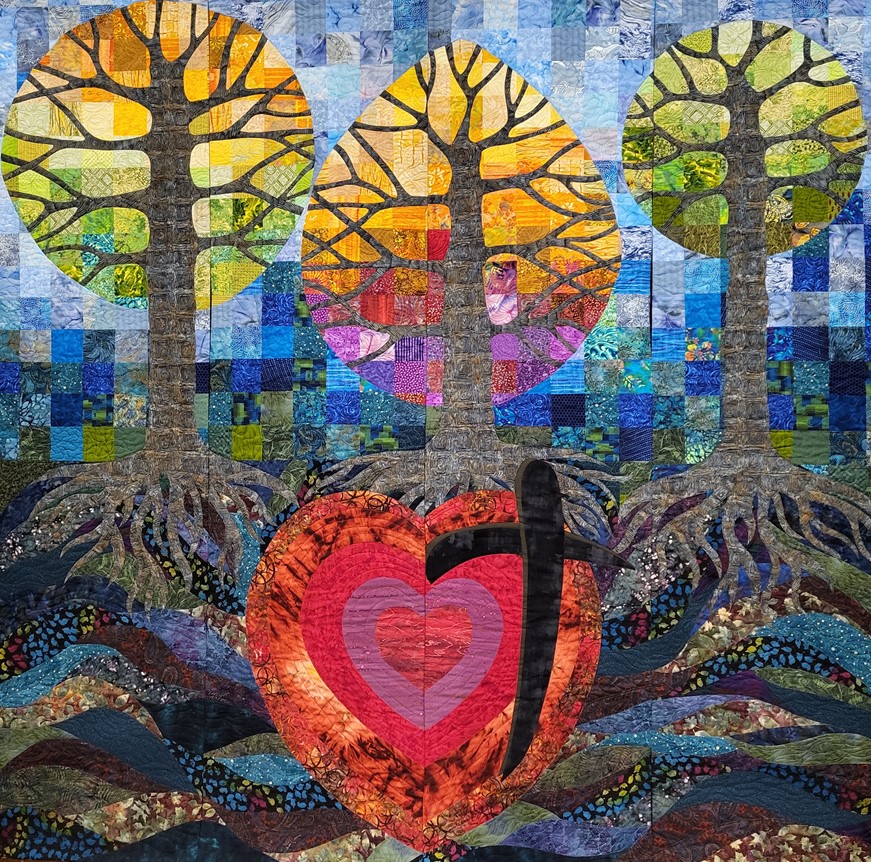 Our year-long celebration began Sunday, June 13, 2021 and ended the weekend of Sunday, June 12, 2022.

The worship banner shown above was lovingly created by Peg Pennell for our theme, Rooted and Grounded in Love.
The culmination weekend had these two events.
Saturday, June 11 – Celebration Banquet at St Elizabeth Ann Seton (114th and Fort) – Over 170 current and former members gathered for a meal catered by Table Grace. The Lord of Love Brass played gathering and sending music. A program sharing some of the history of the congregation, words of thanks from our children of the congregation who have answered the call of ministry, and plenty of conversation. The choir provided a special sending song.
Sunday, June 12 – Festival Worship at Lord of Love – Over 200 people gathered to give thanks for 50 years of ministry to Northwest Omaha. An extended music prelude preceded worship. Pastor Jon Benson, former associate pastor, brought us the good news of Christ. A time for coffee and fellowship followed the service.
Watch the Videos!
Videos were prepared for this special celebration; Rooted and Grounded in Love: 50 Years of Lord of Love.
Watch all 5 of the videos with this playlist of 50 Years of Lord of Love.
Or pick the Rooted and Grounded in Love video you want to see:
– The Sapling Takes Root (1 of 4)
– Branching Out (2 of 4)
– Growing Bigger and Stronger (3 of 4)
– Love Grows (4 of 4)
– 50 Years of Photo Memories
Read more about these year-long activities of celebration and commemoration of the ministry we shared the past 50 years.
50 Year History Book
Anniversary Offering – as of June 15, 2022, $51,856.50
All-Member Volunteering/Service Hours
Lord of Love Photo Sharing
Anniversary Choir
Key Dates
Bishop Brian Maas preached on May 1, 2022 with brunch following.
Celebration Banquet at St Elizabeth Ann Seton on Saturday, June 11, 2022. Highlights include the Lord of Love Brass, Choir, videos of various members sharing memories of the first 50 years, and our son and daughters of the congregation speaking and wonderful fellowship. The evenings meal was catered by Table Grace Cafe.
Lord of Love History Books will be available at the banquet and at Lord of Love. We are asking for a $5 donation for each book.
Festival Worship at Lord of Love on Sunday, June 12, 2022 with an extended musical prelude. Pastor Jon Benson, former associate pastor, preached and communion was offered to all. A choir anthem with a host of guest singers was lifted up in praise of Jesus, crucified and risen for us. A time for coffee and fellowship followed the worship service.
50 Year History Book
A 48 page book outlining the 50 year history of Lord of Love has been created for this special celebration. Thanks to Jeri Morgan and Steve and Helen Jordon and the many contributors for collaborating to make this spectacular photo and narrative history. While it may not cover everything that you remember, it provides a wonderful retrospective view of things that have made Lord of Love a special place and family over the 50 years of our existence.
50th Anniversary Offering–$50,000 Goal Exceeded!
This special 50th Anniversary Offering had a goal of $50,000. As of June 30, 2022, $52,039.75 was received for the offering. As for prior anniversary celebrations, these financial gifts were gathered to celebrate and share in mission to a world in need and to meet a small congregation need. This special offering will be split in 4 ways:
25% Food Bank of the Heartland
25% ELCA Funds for Leaders
25% Nebraska ELCA for Mission Field Congregations (Sudanese Outreach Ministry in Omaha, Iglesia Luterana San Andres in South Omaha, and Lakota Lutheran Center and Chapel in Scottsbluff
25% to Lord of Love Lutheran Church for new flooring in the Fellowship Hall.
50 Hours of Service/Volunteering
We encourage everyone to show God's love each week, by serving others. Our anniversary challenge was for members to volunteer for 50 or more hours per person for the year (June 13, 2021 -June 12, 2022). Service could be done from home, such as cleaning out a closet or sorting through a pantry to give clothing or food away; calling a friend in need; or physically spending time somewhere in service, such as working at a food pantry, working on a Habitat for Humanity House, or serving on a committee for Lord of Love. Any form of service to others could be counted towards your goal for this anniversary year.
How did we do? As of June15, 2022-7,290 Total Hours had been recorded. – 40 individuals reported their service (an average of over 180 hours each) to over 90 organizations/places. We know that many other members of Lord of Love (both past and current) give generously of their time to Lord of Love and in support of many other organizations. THANK YOU for using your gifts in service to others!
50 Years of Photos
Thanks for your help! We received lots of photos and a video of photos has been prepared to show at the anniversary events. A special thank you to Carissa Combes for collecting the photos and putting together the photo video. We are looking at possibly sharing this electronically in the near future.
Here's what we asked for, and you delivered!
Please take some time as you are able in the coming months, to look through your photos, iCloud storage, old hard drives, and the box tucked back in your closet to see if you have any photos we can use for our slide show! Photos from any church events, gatherings, trips, services, even weddings, graduations, etc. at the church or involving our members can be considered!
Please make sure any physical photos are clearly marked as yours if you would like to see them again!! Unmarked photos are not guaranteed to be returned.