April 2006
Well, It has been 16 months or so here in Tanzania.Maybe it is like any relationship. At first there was the excitement of something wonderful and new and different.
Then reality slowly creeps forward. With time you are better able to peel back and examine the layers not accessible to a visitor. And much of what you find here is not nice. Conflicts of interests, failed leadership, blatant corruption, bureaucracy beyond belief, danger, mistrust, fear, abuse of power, and more. And the church in this country is not at all immune from these forces. Sometimes it seems to be leading the slide.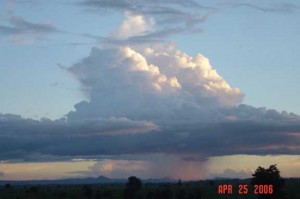 I had enough experience here to know the work would be like rolling the rock uphill "¦ But didn't realize how many days and week could go by without getting that stone moved at all, or maybe even falling back a ways. It has been made painfully clear that much of my personal motivation and feeling of self worth comes from accomplishment "¦which is not really too good in a land where accomplishment is thwarted at every turn.
On the personal side, there have been moments or periods of loneliness, sadness "¦it really kind of goes with the territory. Not expected was a bit of a marital crisis last November. Lynne and I seem to have worked through it and maybe even come back stronger "¦but even after 27 years, marriage too, is a journey.
There is however one thing here that is always good, wonderful, changing, and a delight. The sky. Much else is just great, but the sky here, at least in Kilimanjaro region is always amazing. If Montana is Big Sky country then Tanzania is the Bigger Sky country.
I'm thinking the rainbow was sent as a sigh of hope and promise to Noah. From now on I'm going to try and see the sky of Africa as my personal sign of hope and promise from God. To cheer, to encourage, to motivate, to commiserate. In Kiswahili the word for sky is Mbingu and heaven is Mbinguni or "œin the sky " Good enough for me.
Mungu awe nasi sote God be with us all.
Bob